Disaster Restoration in Stockton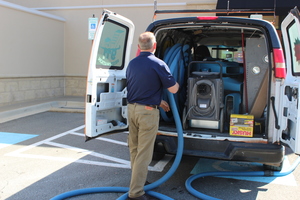 The disaster cleanup contractors at 911 Restoration of Stockton know that that disasters can strike at any time, which is why they stand ready to assist 24/7/365 at 209-689-3222 to help repair the damage taken. Disasters are devastating enough, the restoration after it shouldn't be so as well. That's why we make guarantee to arrive within 45 minutes of your call.
What you can expect from your Disaster restoration specialists includes:
Guaranteed availability 24/7/365
Care and understanding of your needs
Nationwide backing in a locally owned package
In addition to our team's availability and resources every one of our technicians is also IICRC certified so they can deliver unmatched expertise for all of your disaster restoration needs.
Disasters are fully capable of spreading beyond the point of origin and can come in many forms and degree of severity. For example, water damage is a common form of damage that can reach disaster level proportions. In addition, other forms of damage include fire damage, smoke damage, and even mold remediation elk grove as a secondary form of damage if not handled correctly the first time in a prompt manner.
Since disasters can be so widespread, our emergency restoration specialists train beyond their certification in the latest techniques and technology to handle your disaster cleanup services in Stockton no matter how it strikes. When facing property damage don't hesitate to contact the 911 Restoration of Stockton crew so your emergency restoration specialists can begin immediately.
Disaster Restoration Specialists to the Rescue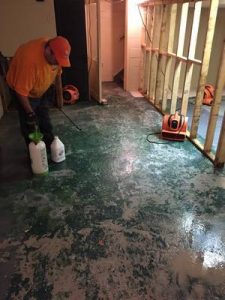 With any disaster the first thing to do is to get the source of the damage contained. In the case of water damage, this would involve stopping the leak or shutting off the main water valve. In the case of fire, calling the fire department is most likely step number one as soon as you can do so safely. However, the real secret in handling your property damage lies in how restoration is handled. Prompt and immediate disaster restoration is the difference between getting your home back to normal quickly and affordably or in a long drawn out and costly process.
The first thing our crew will do after arriving within 45 minutes of your call is to begin with our visual inspection to catalog and document all damage taken as well as establish restoration procedures that will get your home back to good as new. One of the things we will check for is secondary damage as that is one of the things that makes disaster restoration so important. call us 209-689-3222
While terms like property damage or disaster restoration are pretty common, it's likely that the term secondary damage is not so common. What we mean about secondary damage is quite simply a second form of property damage. Take water damage for instance. If your basement floods, you are obviously looking at high levels of water damage, but that amount of standing water can lead to a mold infestation since it only takes 24 hours for mold to grow and become a problem. 
Unfortunately, that is not even the worst that can happen. In the case of fire damage not only do you suffer from the impact that fire creates, but water is a main component in what is used to put the fire out. This means with fire damage you can expect water damage to go along with it. Plus, as mentioned above the water can lead to mold.
That's why our disaster cleanup contractors in Stockton train across multiple emergencies since different forms of property damage can lead to other forms of property damage, and they all have to be addressed in different ways.
When facing property damage the longer you wait the more chance you have to fall behind in emergency restoration. Call 911 Restoration today to get ahead in your disaster restoration. so contact us today at 209-689-3222
Walking Through Your Fire Restoration Procedure
Fire is a destructive and damaging force whether it comes from a grease fire on the stove-top or a candle that has been left unattended. With all the oxygen that exists in a home, the fire has a great chance to spread far beyond where it originated from. Without risking your safety, if you can do so, try to get the fire out if it's manageable. However, if the fire has gotten large enough then evacuation and calling the fire department is your go-to move.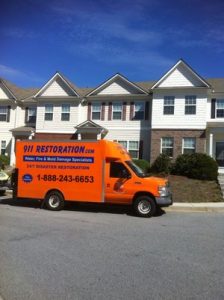 Where we come in is after the fire damage restoration elk grove has been stopped. That's when we begin the fire restoration procedure, which starts with a visual inspection. After we complete our visual inspection we will provide you with an estimate of what it will take to complete your disaster restoration. Once you have approved the estimate, the real work for your fire restoration procedure begins.
Our fire restoration procedures includes the following remediation techniques and services:
Disposal of burnt unsalvageable possessions
Charred flooring restoration
Removal of all smoke stains and odor
Restoration of water damage as needed
More often than not, your fire damage results in water damage occurring due to either sprinklers or hoses being used to put the fire out. At 911 Restoration, we know that which is why part of our fire restoration procedure includes water damage restoration services so that you don't have to worry about mold contamination occurring. In fact, if the 911 water damage experts is large enough (think flooding) we will begin with water extraction before diving into the fire damage specific services we offer.
While our crew handles the physical side of the fire restoration procedure, we will also help you with your insurance so that all of your burnt and charred possessions are cataloged with your lost inventory and we will even help you file your insurance claim so you know it will get approved and you can relax knowing red tape won't stand in your way.
Whether it's water damage restoration, fire damage restoration, or another form of disaster our emergency restoration specialists are ready to help. Call us at 209-689-3222, 911 Restoration of Stockton today!
Serving the communities of Amador County, El Dorado Hills, Elk Grove, Lodi, Manteca, Rancho, Cordova, San Joaquin County, Stockton and surrounding area.