Water Damage in Stockton
911 Restoration of Stockton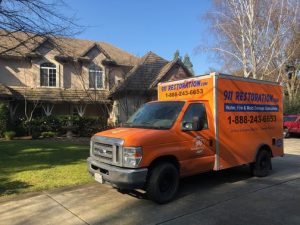 911 Restoration of Stockton operates every day of the year, and they will send repair workers to your home within 45 minutes of answering your call for help.
If you ever need assistance with a water emergency, such as a flood or a ceiling leak, you can call the water damage Stockton professionals at 911 Restoration.
In order to reduce the chances of permanent damage, it is best that our water damage Stockton pros begin work right away, so our mold removal team always makes sure they arrive with all the equipment necessary to begin restoration procedures.
Our water damage crew in Stockton works with IICRC certified professionals who have the training to get the job done right the first time around, so you can count on our mold removal Stockton pros to be your one stop shop for all your home restoration needs.
FIRE ALERT
Attention Stockton residents! The 2020 fire season has resulted in more than five million acres burned on the west coast. 911 Restoration is committed to helping customers get a Fresh Start after fire damage to your home or business. Our team can tackle any type of fire or water damage restoration project with urgency and efficiency. We're available 24/7 and are committed to an arrival time of 45 minutes or less. If you have experienced fire damage, call the fire cleanup experts at 911 Restoration of Stockton for smoke and odor removal and fire repairs today.
Service area map
Our water damage Stockton techs are licensed, bonded and insured to offer the following comprehensive services:
Remediation of all water damage
Black water cleanup
Fungi and mold infestation decontamination
Mildew deodorization
Deodorization services
Water extraction and drying
Toilet overflow sanitization
Mold spore testing services
Cleanup of tar and ash residue
Smoke stain cleanup and odor removal
Overall comprehensive disaster restoration
Call our mold removal team in Stockton as soon as you need assistance with a water disaster, and our water damage Stockton pros will be there before you know it, ready to get to work.
Client Testimonial
Sherry M.
"I would give them 6 stars if I could. I had to deal with a flood in my business, an absolute nightmare for every business owner. [911 Restoration] came right away, and they are so professional and efficient. Even after everything was done they followed up and made sure everything was back to normal. A+ customer service. Thank you!"
Water Damage Restoration
Whatever water emergency is plaguing your home, our water damage restoration unit knows that it's absolutely vital that the problem be addressed right away in order to prevent any further damage.
When time is of the essence, our water damage restoration Stockton operation has an industry-leading equipment and skills that allow us to work on the problem right away.
Because of the different ways water damage can start to affect your home or business, our water damage restoration techs in Stockton understand that it can be a frustrating issue to deal with on your own.
This is why once our water damage restoration Stockton experts arrive on your property, you can expect help right away. Our water damage restoration Stockton team can pinpoint the cause of the problem and our staff can recommend the solutions to get it patched up.
Our water damage restoration technicians in Stockton are available to take on your water emergencies on the day you need it. So, call us right away and we will make sure your home gets a fresh start with the lighting fast response.
Sanitization Services & Disinfection Solutions
Here in Stockton, we are working to handle the coronavirus as a community. While this virus represents a tremendous challenge, we can reduce its overall impact by working together. Reducing the spread of the virus can prevent hospitals from becoming overwhelmed, so it's important we all do our parts to self-isolate. You can also take proactive steps during this pandemic by ensuring your property is professionally sanitized.
You can go over possible disinfection solutions with 911 Restoration of Stockton. We are available right now to provide you with sanitization services. You can reach out to us if you own a commercial or residential property in Stockton. Our sanitization specialists use up-to-date recommendations from the EPA and CDC. Allow us to give you back your peace of mind as we focus on the sanitization of your property.
Mold Removal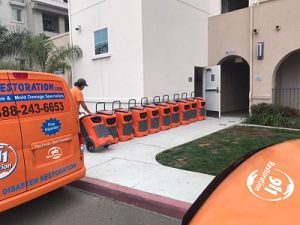 By inspecting your property regularly, our mold removal Stockton unit can stop permanent damage from taking place, as well as curbing mold growth from infesting the premises.
Our mold removal Stockton crew knows that failing to keep your home or business properly maintained can result in water damage that may lead to a mold infestation.
Our mold removal Stockton operation wants to keep your home safe, and by having our workers implement proper maintenance all year round, then a mold infestation can be prevented.
Our mold removal Stockton members know that by paying attention to moisture levels you can detect any mold issues quickly.
Call us today and our mold removal Stockton experts will provide you with a free visual mold inspection to make sure your home or business is in optimal shape.
Sewage Backup Cleanup
Our sewage backup cleanup Stockton technicians have been working for years in the community. Our agents can tell you, from our vast experience, that pipe bursts are extremely common, especially if your home contains old plumbing.
If you have a burst pipe or any plumbing problem, our sewage backup cleanup Stockton specialists want homeowners to protect themselves from the sewage that can spill inside your property.
Our sewage backup cleanup Stockton pros know you can do this by locating your main water line and shut it off immediately. This crucial first step can stop hundreds of gallons of unwanted black water from flood your home.
We are the most reliable company in the industry, and the goal of our sewage backup cleanup Stockton unit is to always help you prevent as much sewage damage as possible to your home and belongings.
Our sewage backup cleanup Stockton workers always put our customers first, so call us today and we will completely sanitize your home or business in no time!
Fire Damage Restoration
If your commercial or residential property has been affected by a fire, then you can turn to the fire damage restoration Stockton team to handle the aftermath of your situation.
Our fire damage restoration Stockton techs will address all aspects of a fire cleanup, including removing smoke stains, smoke odor, ash and tar buildup.
Our fire damage restoration Stockton pros will even remediate any water damage that was a result of the fire extinguishers, which is a common occurrence when it comes to fire and smoke damage restoration.
So, call our fire damage restoration Stockton technicians today and we will do whatever it takes to get your home or business completely repaired from all aspects of fire damage.
Disaster Restoration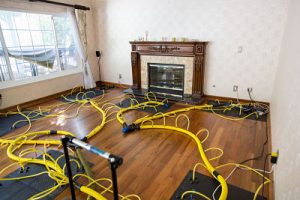 Other than the actual reconstruction work that is done by our disaster restoration Stockton team, there is a whole other side to water damage remediation which includes the insurance companies.
In order to ease your mind, our disaster restoration Stockton specialists will handle the entire insurance process for you, from filing the claim to doing all the follow up communication.
The last thing you need to worry about is money after your home as been flooded, so leave it to our disaster restoration Stockton techs to do all we can to get you the best coverage your policy offers.
Even if for some reason you insurance will not accept the claim, you can stay calm knowing that our disaster restoration Stockton professionals offer affordable prices on all of their services.
When you need quick assistance for a water disaster restoration, call our disaster restoration Stockton staff at 911 Restoration Stockton and we will help you with your insurance procedures.