Water Damage in Stockton
Weather Alert: If you are experiencing pipe bursts from the cold weather, call us today for emergency assistance!
911 Restoration of Stockton
Water affects buildings in all kinds of ways. Whether a storm causes flooding or a plumbing clog causes a sewage backup inside your property, water cleanup is a hassle, not to mention expensive and potentially dangerous. If water sits inside your building too long, it can lead to more problems, like mold or structural damage.
Sometimes, water damage happens slowly, over time, thanks to faulty building materials. Unless your foundation or siding is secure, water can get inside your property from a sprinkler system. If your roof needs repairs or doesn't have proper drainage, rain can cause leaks. If you live in a hot, dry climate like Stockton, Manteca, or Lodi, your air conditioner or humidifier might drip onto your wall or floor without you noticing. By the time you do realize there's a problem –  like a musty smell, damp carpet, or warped flooring – the damage could be extensive.
At 911 Restoration of Stockton, we offer a Fresh Start with our comprehensive selection of property damage restoration services, including but not limited to:
Whether you're a Stockton homeowner or business owner, 911 Restoration of Stockton is your Fresh Start! We'll communicate with you throughout the entire process, help answer questions related to insurance, and restore your property to its pre-damaged condition. One of our IICRC-certified teams is dispatched within 45 minutes of your call! Contact us today, and one of our friendly representatives will assist you in finding the nearest Stockton location.
Service area map
Water Damage Restoration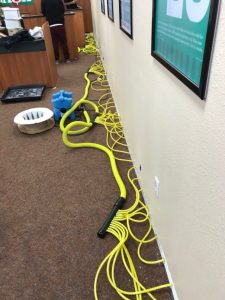 At 911 Restoration, we know property repairs can be daunting. You don't want to spend more money than you have to, but you don't want the problem to continue or get worse. 
With our trained specialists, water damage restoration is done right the first time, saving you time, money, and stress. Our repairs always start with a thorough assessment. At 911 Restoration, we even offer free visual inspections (for property owners only).
As soon as we arrive, we contain water quickly to keep it from spreading. Once we find the source, we begin cleanup. After water extraction, we replace any damaged building materials. We also offer mold remediation, leak repair, and other solutions for water-related problems. Afterwards, our blowers and dehumidifiers dry your property effectively. Our professional team also cleans and disinfects the affected area to keep you and your building inhabitants safe. 
When you need water damage restoration in Stockton, Manteca, or Lodi, give us a call.
Sherry M.
"I would give them 6 stars if I could. I had to deal with a flood in my business, an absolute nightmare for every business owner. 911 Restoration came right away, and they are so professional and efficient. Even after everything was done they followed up and made sure everything was back to normal. A+ customer service. Thank you!"
Sanitization Services and Disinfection Solutions
Whether you need water damage restoration, mold removal, or fire damage restoration, it's important that your space is clean afterward. Otherwise, it threatens the health and safety of everyone who enters your building. 
If you have a sewage backup, dirty 911 water restoration can spread dangerous bacteria throughout your property. After a fire, soot and ash can affect your building's air quality. Certain types of mold are hazardous to your health. For these reasons, it's best to let a professional handle cleanup. Our crews are IICRC-certified and follow all CDC and EPA protocols of the restoration industry.
At 911 Restoration of Stockton, we offer sanitization services and disinfection solutions for commercial and residential properties. Whether you have property damage or just need professional assistance to make sure your space is safe and clean, give us a call at 209-689-3222.
Mold Removal In Stockton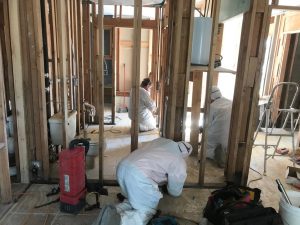 Many property owners don't even realize there's mold on their premises. However, if your building has an unpleasant smell, or its inhabitants are coughing, sneezing, or experiencing headaches, mold is a likely culprit. 
In addition to causing unpleasant health symptoms and odors, mold is bad for your property. It eats away wood, drywall, and other materials. It ruins carpeting and furniture.
If you've recently had water damage, don't let mold make things worse for your property.  When you need mold 911, call our experts at 209-689-3222.
Sewage Backup Cleanup
A sewage cleanup under house is a terrible problem for any property owner. Dirty wastewater is gross, not to mention dangerous.  Hazardous waste cleanup should be done by a professional. At 911 Restoration of Stockton, we use gloves, hazmat suits, and other precautions to remove waste safely, before handling the full-service restoration of your property. 
When you have a sewage backup at your commercial or residential property, don't wait. Evacuate the area immediately and call our trained specialists at 911 Restoration for sewage backup cleanup.
Fire Damage Restoration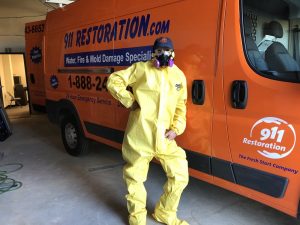 If your property survives a devastating fire or has smoke damage from a nearby blaze, trust our staff for fire in stockton right now. In addition to smoke and odor removal, puffback cleanup, and building repairs, we help restore your life after a fire. Our services include cleaning of surfaces and belongings, pack-out, moving and storage, help with inventory, and free insurance consultations.
At 911 Restoration, we work with all insurance companies, and we'll even help you with the paperwork. After a fire, you have enough to worry about.
For full-service fire damage restoration and so much more, contact us today.
Disaster Restoration In Stockton

At 911 Restoration of Stockton, we know disasters can happen anytime, anywhere. That's why we're available 24/7 for emergency disaster restoration specialists, and every member of our staff is trained in the latest industry techniques and standards. 
In Stockton, Manteca, and Lodi, hot, dry weather and climate change can cause devastating fires. When you need fire damage restoration, we're the only company you need to call. If a pipe bursts and floods your property in the middle of the night, we'll have a team member there within 45 minutes to help you contain the damage and offer water damage restoration. We also offer board-up services before a disaster, protecting your property and saving you money.
No what kind of emergency your property may experience, call our friendly staff for help and repairs. 
Commercial Restoration In Stockton

Running a business is challenging enough; not to mention expensive. When one or more of your commercial buildings has property damage, the last thing you need is for it to affect your business. The longer your property has flooding, mold, a sewage backup, or fire damage, the longer it hurts your business, driving away customers and cutting into your profit.
At 911 Restoration of Stockton, our staff is local, so we understand what you're going through, and we're here to help. When you need commercial restoration, contact us right away.
Serving the communities of Amador County, El Dorado Hills, Elk Grove, Lodi, Manteca, Rancho, Cordova, San Joaquin County, Stockton and surrounding area.