Sanitization and Disinfection Services in Stockton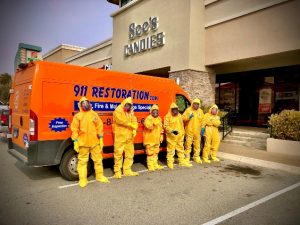 While we once hoped our country could overcome coronavirus swiftly, it's become clear that this is a long-term project. We are all responsible for flattening the curve and providing our medical experts with the time and space to address this insidious virus. As we've already seen, each individual must make major changes and personal sacrifices to limit the spread. These are difficult times, but Stockton is a resilient community. We will get through this together. call us 209-689-3222
Rumors persist that our local governments are making something out of nothing. Please know that the coronavirus pandemic absolutely is a cause for serious concern. While you may be healthy enough to recover from illness easily, others in our community face a higher risk of complications or death. And it is easier than you might imagine to spread the virus to these vulnerable individuals.
Coronavirus symptoms do not appear immediately after exposure. In fact, some individuals can go as long as two weeks without showing signs of infection. Even if you do not experience symptoms, know that you might still carry the virus… which means you could be contagious. For the sake of yourself and those around you, practice social distancing. Wash your hands frequently and disinfect your living and work spaces. If you do show signs such as a cough, fever, or shortness of breath, isolate yourself immediately and call your doctor. so contact us today at 209-689-3222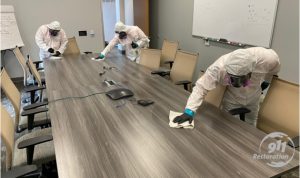 standing water commercial property properties that are still up and running face a unique challenge. You and your employees are on the front lines, providing an essential service at the risk of your health. The more members of the public that pass through your office or retail store, the higher the risk of contamination. As a property owner, you can provide peace of mind for your staff and customers by disinfecting your facility thoroughly. Bear in mind that the virus can remain viable on certain surfaces for hours and even days.
If you feel overwhelmed by the task of sanitization, turn to 911 Restoration of Stockton. Our professional disinfection crew is trained to follow CDC and EPA protocols for deep cleaning. We provide sanitization services in Stockton and throughout the surrounding area, serving both residential and commercial properties. As a locally owned and operated company, we are personally invested in the peace of mind and success of our neighbors. From top-tier service to open communication, our disinfection technicians do what it takes to reassure you in this difficult time.
It may take a while for our community to fully recover from the effects of the coronavirus pandemic. But 911 Restoration still holds to our Fresh Start philosophy, trusting that every disaster restoration specialists is an opportunity for a new beginning. If we can be of service to you, please give us a call. call 911 Restoration of Stockton at our number 209-689-3222