Water Damage Restoration in Lodi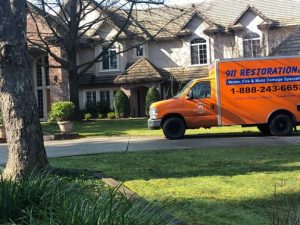 Being a property owner in Lodi comes with equal amounts of benefits and responsibilities. One of the many responsibilities owners have is the responsibility to resolve any property damage that occurs. While the damage can take many forms, the most common type of property damage is water damage. It's also arguably the most destructive. Anything from a ruptured appliance hose to a full pipe burst can cause owners to need professional water damage restoration services. That's why our IICRC certified technicians are ready 24/7/365 to get moving on any mold remediation or water damage restoration needed by our Lodi customers. Whether you live in Lodi, Rancho Cordova, El Dorado Hills, or another city in the Stockton area, we promise to arrive in 45 minutes ready to begin working on your water damage restoration.
Mold only needs 24 hours to start growing and spreading throughout the property when water damage is present. The more you delay in taking care of the water damage, the more likely you are to need additional mold removal services. The easiest way to avoid this need is to get your water damage restoration started promptly. Doing this will prevent additional damage and save yourself a headache.
Whether you need mold remediation or water damage restoration call 911 Restoration immediately. Our technicians are ready to assist you with your emergency restoration. Call now for the Fresh Start you need to move forward in Lodi and surrounding Stockton area.
Water Damage Restoration
With water damage restoration, the key is a fast response that is also performed correctly and in a comprehensive manner. That's why we recommend working with IICRC certified technicians like the ones at 911 Restoration. Our many years of experience and ongoing training has allowed us to hone our water damage restoration process to perfection for our Lodi customers. We work to be better than qualified to handle anything that comes up during your emergency restoration whether you need flood cleanup or full pipe burst repairs.
The key to our success is our visual inspection. We do this step before we even unpack the equipment much less get started. By doing this we are able to understand the extent of the water damage, if mold is already present, and the repairs needed to restore the property to good as new. Once the inspection is complete, we can move to our tried and true water extraction and drying process. We get this done with nothing less than the latest water extraction equipment and commercial dryers to ensure the property is completely dry. During this step, we also take care of any mold remediation as determined by the results of our visual inspection.
We believe in a comprehensive approach, which is why we also perform any needed repairs for our Lodi customers. This includes repairs to the source of the water damage, but also carpet cleaning and even sheetrock installation. The job isn't done until the property is good as new in our minds.
Once you believe there is mold or observe water damage, your first step is to call 911 Restoration immediately. We'll be there within 45 minutes to begin on your mold remediation and water damage restoration. Don't wait to get the Fresh Start you need to move forward in Lodi.
Flood Damage Restoration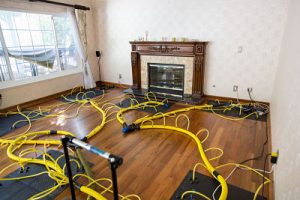 Flood damage restoration is a process that's required with high levels of water being present. Pipe bursts and other sources of flooding are the most common, with flooded basements being the usual suspect when flooding occurs. Flood cleanup is our adjusted approach to water damage restoration and involves performing an additional step. This step is required because any water from that is high enough to be considered flooding, will often contain additional materials ranging from dirt to raw waste.
For this reason, we perform a combination of decontamination and mold decontamination. This step is meant to remove and eliminate all traces of bacteria or mold from the premises. Once this step is done, we begin working on water extraction and drying with our standard equipment. When the property is completely dry, then we can finish the job by taking care of any repairs needed.
Call 911 Restoration as soon as you become aware of the need for restoration services. Get the Fresh Start you need to start over in Lodi.
Servicing the cities of Amador County, Acampo, Carmichael, Citrus Heights, Clarksburg, Courtland, El Dorado Hills, Elk Grove, Fair Oaks, Folsom, Galt, Herald, Ione, Isleton, Linden, Lodi, Manteca, Mather, Orangevale, Pilot Hill, Plymouth, Rancho Cordova, Sloughhouse, San Joaquin County, Stockton, Walnut Grove, Wilton, and surrounding areas.