Water Damage Restoration in Elkgrove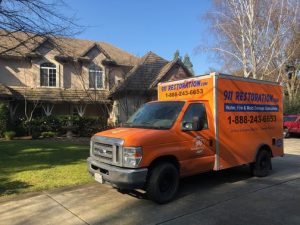 As a property owner in Elkgrove, you know that property damage happens more often than desired. While it can come in many forms, water damage is the most common and destructive of them all. Anything from a simple leak in the ceiling to a full pipe burst can be cause to seek professional water damage restoration services. That's why our IICRC certified technicians are ready to help 24/7/365 by getting to work on any mold remediation or water damage restoration needed by our Elkgrove customers. Whether you live in Elkgrove, Fair Oaks, El Dorado, or another city in the Stockton area, we promise to arrive within 45 minutes ready to begin working on your water damage restoration.
It only takes 24 hours for mold to begin growing when there's water damage. It doesn't even require a significant amount of water to be the case. As more time goes on, the mold grows and spreads, which increases your risk of needing mold removal services on top of your water damage restoration. You can avoid needing this by ensuring that your water damage restoration is started promptly.
If you notice a need for mold remediation or water damage restoration services, then call 911 Restoration for anything ranging from mold inspection to flood cleanup. Call today to get the Fresh Start you need to move forward in Elkgrove and surrounding Stockton area.
Water Damage Restoration
Water damage restoration is a complex and involved process. It requires a fast response. More importantly, it also requires that response be the correct one. Improperly performed restorations can cause problems in the near future. That's why you should consider working with our IICRC certified technicians at 911 Restoration. We have honed our process to perfection thanks to a combination of ongoing training and years of experience. As a result, we are prepared for anything from flood cleanup to pipe burst repair.
The key to our success is our visual inspection. We perform this step before attempting any water damage restoration processes. Our inspection is what lets us understand the extent of the water damage if mold is already present, and what repairs are needed to restore the property to good as new. After the inspection is complete, we can begin to perform our water extraction and drying process. This is done with the latest water extraction equipment and commercial dryers designed to thoroughly dry out the property from top to bottom. During this step, we also handle any mold remediation needed if we found mold during the inspection.
We offer a comprehensive approach that just isn't complete until everything is done. For us, this means handling any repairs needed. We are qualified to repair the source of the water damage as well as perform sheetrock installation and other similar repairs. This helps us guarantee a Fresh Start to our Elkgrove customers.
As soon as you notice or suspect mold or water damage, your next step is to call 911 Restoration immediately. We'll show up within 45 minutes to begin working on your mold remediation and water damage restoration. Don't wait to get the Fresh Start you need to move forward in Elkgrove.
Flood Damage Restoration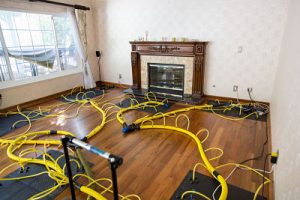 Flood damage restoration is a process that's required thanks to excessively high or contaminated levels of water. This usually occurs when something like active sprinklers or pipe burst occurs. This is why a flooded basement is so common for property owners. Fortunately, the solution is simple and that solution is our flood cleanup process. Flood cleanup is a modified approach to water damage restoration that uses an additional step. This step is needed because floodwater has contaminants ranging from dirt to raw waste depending on the flood source. These contaminants result in a health hazard for our Elkgrove customers.
The first step is our combination of decontamination and mold decontamination. This step is meant to completely remove all traces of bacteria or mold from the premises. Once this step is done, we can get started on our standard water damage restoration process. When the property is dried out, we finish things by performing any necessary repairs to get the property back to good as new.
Call 911 Restoration of Stockton for all of your emergency restoration needs. Get the Fresh Start you need to start over in Elkgrove.
Servicing the cities of Amador County, Acampo, Carmichael, Citrus Heights, Clarksburg, Courtland, El Dorado Hills, Elk Grove, Fair Oaks, Folsom, Galt, Herald, Ione, Isleton, Linden, Lodi, Manteca, Mather, Orangevale, Pilot Hill, Plymouth, Rancho Cordova, Sloughhouse, San Joaquin County, Stockton, Walnut Grove, Wilton, and surrounding areas.