Mold Removal in Manteca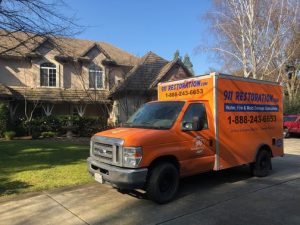 As a property owner in Manteca, you're familiar with property damage more than you would like. While damage can happen in a number of ways, there are none as potentially frustrating as mold. Save for unusual circumstances, mold grows slowly over time. This means that it can be weeks if not months before you notice a problem. During that time, you're looking at more of your property getting eaten away at or potential health issues. That's why our IICRC certified technicians are ready 24/7/365 to assist you with your mold remediation. Whether you live in Manteca, Lodi, Rancho Cordova or any other city in the Stockton area you can count on our arrival within 45 minutes to begin working on your mold removal.
Staying on top of any potential mold growth is easy once you understand what to look for. There are a number of signs to be aware of to minimize your chances of complications. These signs include:
Rotting wood

Crumbled drywall

Visible mold

Breathing problems

Headaches

Persistent cough

Stale odor
Don't forget that mold cannot be cleaned with normal cleaners and cleaning methods. The only thing that happens is the mold spores become agitated. When this occurs, these spores go airborne and spread to other areas on the property. For this reason alone, the only real solution is professional mold remediation done by IICRC certified technicians. 
Don't wait to call 911 Restoration if you suspect or notice mold. We're ready to assist residents in the surrounding Stockton area with everything from mold cleanup to mold decontamination. Get the Fresh Start you need to begin anew.
Mold Remediation Professionals
There are mold remediation professionals that get the job done. Then there are mold remediation professionals who get the job done correctly. Mold removal doesn't just mean wiping away the mold with strong cleaners. There are steps that must be taken to ensure the mold doesn't come back. At 911 Restoration, our IICRC certified technicians have honed their mold remediation process to perfection thanks to years of experience and ongoing training. We are trained in every aspect of mold remediation from mold decontamination to mold cleanup for our Manteca residents.
We always start with a visual mold inspection before getting to work. This critical first step is what helps us determine how far the mold has spread, toxicity levels, containment measures needed, and what repairs are needed before we depart. After the mold inspection is done, we can get started on our mold remediation process. The first step in our process is containment. The mold can't spread if it's contained, which is why we use containment measures including vapor barriers to get the job done.
Once containment is achieved, we proceed to our mold decontamination step. During this step, we utilize industrial strength cleaners and detergents to ensure all mold spores are neutralized. Once this is accomplished, we can safely begin the mold removal itself. During the mold inspection, we are likely to discover the source of the water damage causing the mold growth. That's why we also take care of any water damage restoration needed by our customers. 
If you suspect mold, the next step is to call 911 Restoration. We'll be there in 45 minutes for our Manteca customers to begin on your mold cleanup. Call now to get the Fresh Start that has you breathing easier.
Removal of Black Mold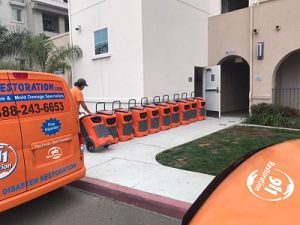 Black mold is the most dangerous mold property owners can face. This type of mold thrives in unusually dark and damp environments. In addition, if the water causing the mold is contaminated, then the likelihood of the mold being black mold goes up. That's why it's so important to act quickly as soon as you suspect mold of any kind. 
The reason why black mold is so dangerous is that it's hazardous to your health. The most severe problems are organ shutdown and in some cases, death. We take your health seriously, which is why we perform a two-phase mold decontamination process. One round is done before mold removal is performed, and the second round occurs once the mold removal is complete. 
Call 911 Restoration immediately if black mold is suspected. Don't' wait to get the Fresh Start that keeps you safe and healthy.
Servicing the cities of Amador County, Acampo, Carmichael, Citrus Heights, Clarksburg, Courtland, El Dorado Hills, Elk Grove, Fair Oaks, Folsom, Galt, Herald, Ione, Isleton, Linden, Lodi, Manteca, Mather, Orangevale, Pilot Hill, Plymouth, Rancho Cordova, Sloughhouse, San Joaquin County, Stockton, Walnut Grove, Wilton, and surrounding areas.