Emergency Preparedness for City of Stockton, CA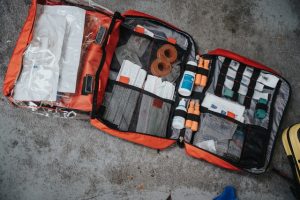 Citizens of The City of Stockton are familiar with annual disasters, and that is why protecting loved ones from injury is the top priority when a disaster strikes. A disaster brings a high degree of confusion and chaos along with it. It's a good idea to plan ahead of time and know exactly what you and your family would do in the case of an emergency.
Figuring out how you would evacuate, where you would go, what you would pack for an emergency, whom you would call, and even how to evacuate your pet in advance can reduce a significant amount of stress during an emergency. Know that there are disaster restoration companies that can help you fix and repair after a catastrophe. 911 Restoration has experts and professionals who would provide you with a helping hand after such calamity.
Here are some ways you can ensure the safety of your family and your home in events like fire, earthquakes, hurricanes, tornadoes, and more.
Federal Emergency Management Agency Preparation Guidelines
Before you start preparing for disaster, it is important to contact agencies like American Red Cross that assist families with creating a disaster plan. Contacting local officials will help you stay informed about the typical issues that may affect people in a specific area.
Community Hazards: get in contact to know what man-made, and natural hazards occur more frequently to prepare and develop an evacuation plan accordingly. Some areas are at a higher risk of flooding, and some experience more earthquakes or tornadoes.
Community Disaster Plans: it is crucial to know about local community response plans, emergency shelters, and evacuation plans. Inquire about evacuation and emergency plans that local authorities would carry out in different places your family spends time in, such as places of work, schools, and day-care centers.
Community Warning Systems: get in touch with the local authorities to know how they will warn residents about an imminent disaster. Before calamity strikes, citizens should know how they will get important information before, during, and after a disaster. Know if the warning will be through local emergency stations on the radio, television, or through some other way.
Make A Disaster Plan- Things You Need in an Emergency
Schedule a family meeting every six months and develop a plan to discuss potential disaster dangers, and prepare the family to respond as a team. This meeting should include all members of the family, whether old or young children. Everyone should be aware of the disaster plan. The following are some of the crucial components that you should include in the disaster plan you come up with;
Choose an Out-of-Town Contact Person: This could be a friend or a relative who lives out of town. Provide their number to everyone in your family and explain to them to contact this person to let them know their status and location if disaster strikes. It is also important to give the contact person information such as insurance policy numbers and copies of important papers such as passports and birth certificates. In addition, all family members, including children, should have important phone numbers such as emergency numbers and numbers of family members. Teach your children how to make phone calls.
Check Insurance Policies: Call your insurance company and check if they cover costs for all potential damage due to disaster. Purchase policies to cover against property loss beforehand to make after disaster times less stressful for you.
Choose a Meeting Location: in most cases, during a disaster, due to chaos and confusion, family members separate. Deciding on a meeting point or location would save you the trouble of looking for your family in such turmoil. All members of the family should meet at a specific location after a disaster.
Designate Escape Routes: lookup for safe escape routes during different disasters. In case of fire or forest fires, create several escape routes and make sure everyone knows them. Instruct everyone to go to the lowest level of the home and away from windows if a tornado occurs, or if an earthquake occurs, and it is best to evacuate the house and run to an empty field close by.
Make a Floor Plan: Creating a floor plan for every room on every level will help you plan evacuation and determine what disaster supplies are needed in each room. It should include windows, doors, staircases, large furniture, disaster supplies, fire extinguishers, and a utility shut-off point.
Make an Alternative Plan for Special Needs: If a family member has special needs, make an entirely different evacuation and safety plan to ensure that they can evacuate and follow the plan safely.
Plan for Pets: if you have furry friends, then the emergency plan you come up with needs to includes procedures to evacuate with pets. Look for emergency shelters that allow pets.
Create a Disaster Supply Kit: Stores often run out of basic supplies in times of disaster. That is why it is essential to pack a bag with all emergency essentials such as clothes, medicines, first aid boxes, snacks, water bottles, etc., to help you in times of need.
Disaster Restoration Company at Your Service!
It is very common to face damage to property during disasters. If you're looking for a Disaster Restoration Company in Stockton, then 911Restoration is at your service. Contact us now at (209) 689-3222 to avail our services!