Building A Fireplace To Mitigate Fire & Smoke Damage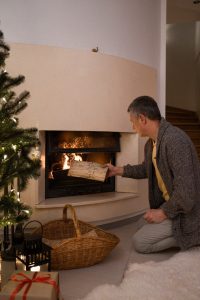 Nothing feels as comfortable and relaxing as sitting by the fireplace with your loved ones on a cold winter day with a hot cup of cocoa. If you love the idea of an indoor fireplace and are planning to build one, this post is a good read for you. It is crucial to understand that there are certain things that you need to keep in mind when you're building a fireplace and essential safety measures you must take when using it. You should be well aware of all these tips and measures to mitigate fire and smoke damage.
There are certain mistakes that many homeowners end up doing which result in a sudden fire leading to serious structural damage. Hence, costing homeowners big time in home damage restoration. Here are some of the things that you should focus on when building a fireplace to mitigate fire and smoke damage. Take a look:
Hearth Base or The Foundation
When the construction of your fireplace begins, the first thing that you need to focus on is the hearth base. The hearth base is the foundation of a fireplace. It is located at the bottom—the slab sits flat at the fireplace base on top of which you see the fire unit.
A hearth is a crucial aspect of a fireplace. Therefore, it should be constructed perfectly using non-combustible materials like stone, marble, cement, or granite. Not only do these materials look decorative and aesthetically pleasing, but they also protect your house from the heat of the fire.
This further lowers the risk of fire or smoke damage. Moreover, the extension of the hearth into a room also acts as a safety feature. This prevents ash, soot, or burning embers from spitting out or spilling on the floor, which can be dangerous, otherwise.
Once your construction activities for building a fireplace is underway, make sure that:
The hearth is at least 100mm below the floor level. This will give the hearth and its extension a firm and stronghold.
The base of the hearth should also be 100mm deep and supported by a quality masonry foundation.
It should be thick and deep to provide excellent support to the chimney and firebox, and the extension can go 18 or 20 inches beyond the opening of a fireplace.
Install Spark Screens
Embers and flying sparks are common when burning wood. However, they can be extremely dangerous if you leave the fireplace unattended or unsupervised. This can result in a fire before you know it. Therefore, to limit and mitigate this risk, it is advisable to install spark screens. Spark screens work like freestanding barriers. They are sometimes also attached to the front of the fireplace.
The function of spark screens is to keep the flames contained inside the firebox. It protects your house and its surrounding from igniting accidentally. Additionally, you can open or move them if you want to add some logs and close them when needed to contain the blaze and prevent it from posing any risk to your home and family members.
Remember that these small and basic tips for building a fireplace can protect you and prevent your property from fire damage. But as accidents are inevitable, if your home catches on fire for any reason, contact us right away. 911 Restoration of Stockton can help you with home restoration after fire damage and let you resume living in your property in the fastest possible time.
Invest in Iron Grates
This is yet another aspect to keep in mind when building a fireplace. Iron grates are excellent for keeping the logs off your fireplace inner hearth. Plus, this also prevents the logs from moving around. Like a golf tee keeps the golf ball in place, iron grates prevent the logs from rolling around your fireplace and tumbling into the room.
Iron grates also have wide spacing between the bars. This helps the ash to fall out of the way while facilitating the free movement of air and keeping logs burning.
Construction of Chimney and Backup Masonry
A chimney should be constructed tactfully to prevent smoke damage. In general, it should be at least 4″ inches larger compared to the flue surrounded in all directions. Make sure to keep combustible materials at least 2″ inches away from the outside of the walls of the chimney for safety purposes.
Likewise, always make sure to leave a proper air space and bond break between the backup masonry of the firebox and the masonry outer shell. It is much needed to prevent cracks in the firebox if and when it becomes hot and begins to expand.
Basic Safety Tips To Consider When Using an Indoor Fireplace
Here are some safety tips that you should always follow when using an indoor fireplace:
Make sure to open your chimney damper. It should be done before you start a fire. It will provide proper ventilation.
Always place logs at the rear and on the top of the iron grate. And be sure to close the spark screen tightly. It will keep hot embers and sparks inside the fireplace.
Clean the fireplace regularly. Remove the ash and vacuum any remaining debris. It will prevent flammable materials from building up and starting a fire.
Keep all types of flammable things away From the fireplace, such as gasoline, alcohol, oil, paper, nail polish remover, extra wood, and toys.
In case of a fire, call the fire department, and contact our home restoration experts. At 911 Restoration of Stockton, we can assist you with home restoration after a fire. From cleanup to repairs and everything in between, you can count on us.