Are Vehicle Crashes Into Homes Covered By Insurance?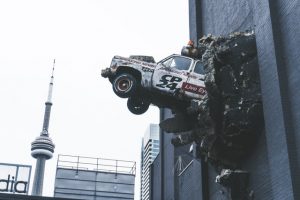 When a car crashes into your home, what should you do? And, most importantly one question that arises in your mind is that are vehicle crashes into homes covered by insurance? Let's talk about this.
Vehicles crashing into homes is not unusual. According to the Insurance Institute for Highway Safety and the Storefront Safety Council, over 20,000 vehicles crash into buildings each year, over 50 accidents every day. This means a car crashing into your home is a possibility, and you should be prepared for such an event.
What to do right after a car crashes into your home?
Well, of course, the first thing you must do is call 911, then make sure you and everyone around you is safe. This means everyone in your home, and also the people that might be in the car that has just crashed into your home.
Get everyone out, if possible, and away from the vehicle in case there is a fire. If anyone is injured, help move them to a safe location, away from the car. If you actually know how to, you can also try and deliver first aid to those that might need it.
Next, you need to collect information.
Like you would in a normal car accident, you have to start collecting information like their names, contact numbers, and of course, insurance details. Also, watch for any unusual behavior by the drivers or passengers as people don't normally crash into homes, and they could be under the influence of drugs or alcohol.
Then you will have to call your homeowners insurance and make them aware of the damages that have been caused to your home. The insurance company will need to send an adjuster to your home to assess the amount of damage your home has suffered. Your insurance company will only start working on your case after the police are done with their reports, but it's good to get the insurance company involved as soon as possible.
When the driver at fault is insured
Usually, in cases like these, the person that caused the accident is liable for the damages. Once you file an insurance claim, the driver who was at fault for the crash will be responsible for all the damages to your home. Their auto insurance will cover your property damage up to their set limit.
Unfortunately, suppose the insurance policy of the driver who was at fault has a set limit, and the damage to your home is over that limit. In that case, the entire monetary amount of the damage may not be covered. Like, if the damage to your home amounts to $15,000 and the insurance limit is $20,000, you will be covered fully by the driver's auto insurance.
But what happens when the damages exceed the policy limits of the insurance? What would you do if the damage amounts to $15,000, but the policy is limited to $10,000? Then you have no other choice but to file a claim with your own homeowner's insurance company, and they should cover whatever is left above the at-fault driver's insurance limit.
When the driver is uninsured
If a car crashes into your home or property, and the driver at fault does not have insurance at all, then you will have to file a claim with your own insurance company.
Your homeowner's insurance policy should have 'vehicles' listed among the different damages they cover for your home, and they should cover and pay for all the damage to your home, even if the at-fault driver is uninsured.
Make sure your homeowner's insurance policy lists vehicle damage to your home under the potential threats it covers. Most homeowner policies already have vehicles among the different hazards like fires, vandalism, theft, and storms. If you do not see 'vehicles' listed in your policy, call your insurance agent as soon as possible and get the issue fixed.
What if you crash into your own home?
Well, if you were the driver at fault for crashing into your own home, you will have to file claims with both your auto insurance company and your homeowner's insurance company. The auto insurance will cover the damage to your car, and the homeowner's insurance will cover the damages caused to your home.
However, rules or exceptions may be different for these kinds of issues, so make sure you call or talk with your insurance agent to make sure you are covered for these occurrences.
Fixing the Damage
You will want to get all the damage your house has suffered fixed as quickly as possible. Depending on how severe the damage might be, you may even have to live in a different place until your home is fixed.
If a car has crashed into your home, call 911 Restoration of Stockton as soon as possible to help you restore your home completely. Our team is professionally trained, and IICRC certified to provide you with the best services you can find. Call us at (209) 689-3222, and our experts will be there to help you within 45 minutes!
911 Restoration of Stockton will help you restore and repair all the damage the vehicle might have caused to your home, and we can also help you file claims with your insurance company to keep you as stress-free as possible during these tough times. It doesn't matter what kind of emergency your home might be facing; our friendly staff is available 24/7 for help and repairs!